How To Be a Hero
It's not every day that you get to meet one of your heroes in life, but these last couple of days in Nairobi, I've been spending my time with one of the great heroes in my life. And the chances are very much that unless you've heard me mention his name, you won't know him.
In fact to most people he's a complete unknown. So spend a few minutes reading his story, because I believe that each one of us – unknowns though we may be – has the capacity to be … a hero!
The Making of a Hero
Have you ever wondered … what causes us to label someone as a "hero"?
Yeah, me too. And yet when I meet with, talk to and talk about Bubahase Joseph – it becomes pretty clear to me.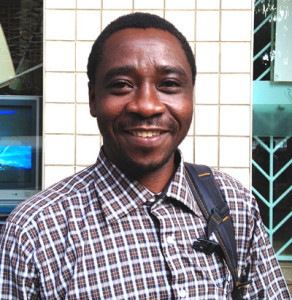 Joseph has been working with the ministry of Christianityworks over the past five years and until the other day in Nairobi, we'd never met face to face. We'd chatted on Skype, by email … even on the phone, but we'd never shaken hands and sat together and talked.
Joseph lives in Rwanda. His job? He represents the media ministry of Christianityworks across East Africa. Through his hard work, some 19 stations now air our programs across Rwanda, Burundi, Uganda, DR Congo, Tanzania and South Sudan.
So 'What's the big deal?' you might ask.
The Stuff Heroes are Made Of
Well in building those relationships and in delivering the program CDs to stations every few months by hand, Joseph regularly travels through war zones and faces dangers and hardships that simply beggar belief. We haven't yet been able to afford to get him a good second hand 4WD to get him around, so he travels on long, uncomfortable, bumpy bus trips.
And yet somehow, to him, that's all par for the course. It's no big deal.
There's never any grumbling or complaining. There are no tantrums, no drama, no histrionics, no demands. He just gets on with his mission to spread the Gospel through the media, by putting it all on the line for Jesus. Day after day. Week after week. Month after month. Year after year.
The Impact of a Hero
And through those years of quiet, hard work and dedication, applying his gifts and abilities to build relationships with radio stations and church leaders … literally millions of people are now hearing the good news of Jesus every week across East Africa.
Okay … hang on a minute. Is that an exaggeration?
I sat yesterday with one program director from a station in Uganda who told me that over 300,000 people are listening to our daily 10 minute program – in fact advertisers are scrambling, he told us, to advertise either side of this Christian program, because of the size of the audience that the Gospel draws.
I met another Program Director today who had recently conducted a comprehensive audience survey – over 800,000 people listening just to the weekly half hour Christianityworks program!
And the truly staggering thing to me is that Joseph just doesn't see himself as "a hero".
AlthoughI wonder if that isn't one of the essential characteristics of a true hero. Here's this plain, ordinary, unassuming young man – the quintessential "quiet achiever" – through whom God achieves absolutely extraordinary things. How? Why?
Just because the guy shows up each day and gets on with what God has for him on that day.
Becoming a 'Hero'
When I think of Bubahase Joseph, this is the Scripture that springs to mind:
And all of you must clothe yourselves with humility in your dealings with one another, for "God opposes the proud, but gives grace to the humble."
Humble yourselves therefore under the mighty hand of God, so that he may exalt you in due time. Cast all your anxiety on him, because he cares for you. (1 Peter 5:5-7)
Take that Scripture, let God write it on your heart, live it out in your life and you know something … I think each one of us has the capacity to become, in our own special, quiet, unassuming way, someone else's hero.
Here's to putting it all on the line for Jesus!