How I Won My Personal Battle with Obesity
These day, people marvel at my success.  The before and after photo tells it all – I'm a shadow of the man I used to be.  What they don't see is the  anguish, failure and shame over the last 40 years as I battled with obesity and failed every time.
Today, there is 25 kilograms less of me. It was easy. It is permanent. So I want to share with you the one thing that changed everything for me. And at the end of the article, there's a link to download my free eBooklet – 
My Top 3 Secrets for Losing 25 kg.
The Problem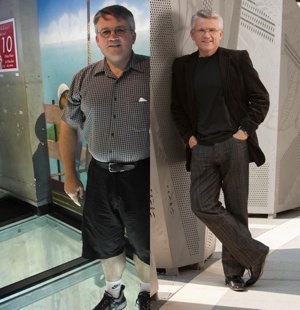 My late Auntie – God rest her soul – whenever she would see me and I was in one of my heavier phases (i.e. between crash diets) would say to me, in her high-pitched, German-Romanian accent:  My Berni!! You are looking sooooo prosperous!
That used to cut through me like a knife.  I hated being obese – and that's what I was. 
After leaving the Army at age 27, I'd gained a massive amount of weight, although really, I'd been struggling since I was about 7 years old.
I don't know if you've tried to lift a 25 kg suitcase lately, but it's very, very heavy.  And that's what I used to carry around on my body 24/7 in excess fat.  Unbelievable.
Now, those who know me will tell you that I am your classic highly focussed, outcome-oriented, disciplined, Type-A kind of guy. So, by crash dieting, starving myself, going on unsustainable exercise regimes (walking/running 20 kms a day!) I had, seven or eight times in my life, managed to lose over 20 kgs.  And since every kilo of human body fat contains 7,700 kilocalories of energy, you'll realise that each one of those efforts was truly herculean.  
And yet, as disciplined as I am, each time when the diet was over, I stacked all the weight back on again. 
Why? That was my question!! WHY??!!!
*
Einstein Was Right!
Einstein's definition of insanity is this: Doing the same thing over and over again, and expecting a different result.
I'd tried everything. All the diets. All the fads. All the exercise. And I was always coming up with the same result. And the reason that by now this was such an issue was that I was on the wrong side of 50. 
My father had died at age 74 of diabetes.  I was pre-diabetic and on my way to an early grave.  Obesity, heart disease or stroke (the no. 1 killer), diabetes – take your pick. One of them was going to get me and sooner rather than later. I had to do something. But what?
I wasn't yet sure, but it had to be fundamentally different to the low-fat, high exercise thing that hadn't worked all those times, and was the basis of my own, private version of obesity-insanity.
And then, through a man called David Gillespie (author of Sweet Poison, Sweet Poison Quit Plan and a range of other books) I discovered the very small handful of facts that changed everything.
Everything!
*
The 4 Facts That Changed Everything
Here they are:
Our level of sugar consumption (as normal as we think it is) is at historically abnormal levels. And not slightly abnormal. Grossly abnormal. Back in the 1880's, the Brits were consuming about 7 kgs of sugar each year. Today, in most western societies, we're eating an average of 70 kgs.  That's ten times the amount. So let's stop kidding ourselves, THIS IS BAD. And almost everything you buy in a tin, in a packet or in a bottle, is laced with the stuff. Why? Because it gets people to buy more. 


*

Sugar (sucrose) is 50% glucose (that's the good stuff on which every cell in our body relies for energy) and 50% fructose (that's the bad stuff, because it's one of the few substance our bodies can't turn into glucose, so … we turn it into … triglycerides. What are they? Short name … fat. And, as if that's not bad enough, since our finely tuned appetite control system relies on blood sugar to decide when we're full (glucose) and fructose turns into fat instead, we think we're still hungry and so we eat more.


*

A diet high in refined carbohydrates (sugar, white flour, white rice, potatoes) causes blood sugar to spike, which results in a strong insulin response, which causes blood sugar to plummet, which causes us to feel hungry and so … we eat even more. 


*

And that constant spiking and plummeting of blood sugar causes insulin resistance, which leads to diabetes.
There's more, but that's the guts of it.
* 
The Life-Saving Answer
So, I removed refined carbohydrates (everything that contained sugar, white flour, white rice, potatoes and white pasta) as completely as possible from my diet. 
The pantry was, I have to tell you, almost empty. People thought I was nuts. How can you possibly live without BBQ sauce (43% sugar), tomato sauce (35% sugar), muesli for breakfast (even the healthiest one I could find 35% sugar), bread, spuds, spaghetti … are you crazy?
No. In fact, all I was doing was winding the dietary clock back to the late 1800's when – get this – heart disease, diabetes, stroke and most cancers were almost completely unheard of, and when obesity was as rare as four-leafed clovers.
And, by the way, since my diet is high in protein and fat (this morning's breakfast: 2 eggs scrambled with cream, fried in butter, with some salmon, tomato and spinach – NO toast of course) I'm never hungry and I am always satisfied.
I know what you're thinking: You lunatic. What about your cholesterol?! 
Well, my doctor couldn't be happier.  Triglycerides down by two-thirds. HDL (the good stuff) up by half. LDL-P (LDL particle count – that's a far more reliable measure than LDL-C when it comes to heart disease) all down! There's sound science behind all that, but we don't have time to go into it (that's what the eBooklet's for).
But suffice to say, the latest research (confirmed by my live laboratory experiment of one – me) is telling us it's the diet high in refined carbs – sugar in particular – and not the fat that's doing it.
What a pity most GPs (mine included) have yet to wrap their minds around the best science that's available.  
*
The Result
Without any effort, starving, sense of deprivation, outrageous exercise program … I lost … 25 kgs.
And not only have I lost it. 
These days, I eat whenever I'm hungry until I'm full.  The point is that with the refined carbs gone from my diet, my appetite control system is now functioning the way God intended. Normally. I'm less hungry, less often. That's why I eat less.
High fat. High protein. Low (almost no) refined carbohydrates. Remember, all the veges I eat are cram packed full of carbs, not to mention the antioxidants and vita-nutrients.
I always ask the waiter and check the packaging for nutritional information and – with the focus of a celiac avoiding wheat – I avoid sugar and refined carbs.
Do I feel at all deprived? No.
Do I wish I could have that muffin at the cafe? No.
I just don't desire them anymore. I was seriously hooked on sugar, but after a week of detox, now, I'm not hooked anymore.
And with about the same amount of effort it takes me to avoid cocaine, heroin and ICE (i.e. zero) I maintain a normal, healthy body weight.
So – tell me – who's the crazy one here?
To help, I've written a booklet – 
My Top 3 Secrets for Losing 25
kg
. It includes references to a bunch of other resources, including
David Gillespie's
material.  
And I would love to give you a free copy. Just click on the button below to download your copy right now: