The Science of Making Excuses and Being Fat
All my life (until recently) I've struggled with my weight. It seems that all I have to do to gain a kilogram is to inhale deeply whilst walking past a fish 'n chips shop. (That is until about 8 weeks ago).
A few weeks back now the 60 Minutes program in Australia ran a segment which heralded the discovery of the fat gene. Their conclusion? There's nothing you can do about it – just enjoy being fat.
So – I need your help. Can I ask you to watch the video of their segment linked in this post and tell me, does it represent …
(a) bad journalism,
(b) bad science,
(c) all of the above, or
(d) none of the above?
So here's the video link. It'll take you to the 60 minutes page. (Apologies in advance that it won't play on an iPhone or iPad … and also, should they remove the video from their site at some time in the future, that's out of my control too :-))
Click on the image, watch the video, and then please come back to this post, because I want you to vote and tell the rest of us what you think …
*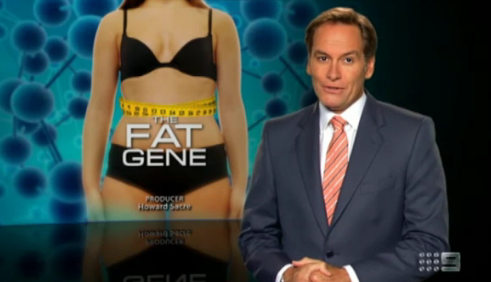 So what did you think? The conclusions reached in that segment are, in summary, as follows:
1.  The Australian study concludes that no amount of dieting helps. You have a biological drive that wants you to put the weight back on. A dieter will always return to their original weight. So, what you should do is just go with the flow. Be proud of being fat. This is backed up by the emotive story of a well known singer.
2.  The American study is equally clear and yet, it tells us 100% the opposite. If you are vigilant with exercise and you weigh all your food and count all your calories and live with much more conviction and discipline, you can lose the weight and keep it off.
Brilliant!!! Two studies by two sets of scientists that tell us two completely different things. Just what we all needed!!
And what about the evidence of the fat gene? Where's the evidence? Well, and I quote from the Australian scientist on the program, that:
The body has a genetic mind all it's own. Our bodies gravitate to a pre-determined weight and it's written in our DNA … it's probably genetic.
Okie dokie. Then show me the evidence. None was presented.
And that's the problem. I have lost over 20 kgs 6 or 7 times in my life. Anyone who's ever tried to lose weight will know that that's something that takes a lot of drive, determination and discipline. But each time (as self-disciplined as I am) I've put them back on again.
Yo-Yo …. Yo-Yo … Yo-Yo … … … …
Until 8 weeks ago I read a couple of books by self-confessed recovering corporate lawyer David Gillespie, who did what lawyers do best. He independently went around the world and collected the evidence from research projects. His conclusion?
The culprit is 100% sugar.
Sugar is making us fat? Okay, we've heard about all these crazy diets before so what's new?  As much as I hate to admit that I think a lawyer (of all people!) has done something useful for once, having read his argument, I actually believe he's hit the nail on the head.
Here's his line of reasoning in a nutshell:
1.  In the early 1900's almost nobody was fat.
2. Today obesity is an epidemic that's accelerating.
3. In that short a period of time, it's highly unlikely that our genes have mutated on such a dramatic, global scale as to give our bodies a different "genetic memory" or program that demands of us that we should be obese, get sick and die young.
4. The answer must therefore lie in an externally introduced, environmental factor.
5. The culprit, he contends, is sugar. White poison. He goes on to set out the scientific evidence that:
(a)  sugar messes with our appetite control mechanisms in two critically damaging ways, so as to make us very hungry thereby causing us to eat more (much more), and
(b) the fructose component of sugar (50%) is not easily digested  – and since fructose cannot readily be turned into glucose (which is our body's energy food) it is instead turned into fat in our bloodstream, which is the root cause of many of the lifestyle diseases of the 2oth and 21st centuries.
6.  If we remove the historically high volumes of sugar from our diets (a volume which has increased stageringly – more some 15-fold since the early 1900's – a fact that we conveniently ignore when speaking of the wisdom of a "balanced diet") we will allow our body's finely tuned appetite control mechanisms to recover, to function correctly and this will cause us to lose weight.
So in summary, his argument is based on two things. The historical correlation between increased sugar consumption and obesity (and related diseases) and research which has only been undertaken in the last 10 years, which tells us that we can't metabolise fructose and that it's playing havoc with our appetite control systems.
Great theory. What about the results? Does it work?
So, he put his conclusions to the test with a statistical sample size of 1. He lost 40kgs in 18 months by doing nothing else other than removing sugar from his diet.
As Mr Yoyoyoyo, I found  these  conclusions (based as they were on the comprehensive research he sets out in his books) to be compelling … but after years of disappointment, it all sounded just a little too good to be true.
But what do I have to lose I asked myself, so …
… I put his conclusions to the test. I was shocked. For the first time in my life, I stopped feeling hungry all the time. Within 8 days my appetite was put completely under control. I am now (even though I recently lost 23 kgs the hard way again … but was on the way to putting 8 of those back on again and growing) am again slowly losing weight.
I really don't have to worry too much about what I eat. The only thing I don't eat, is anything that contains significant quantities of sugar (which is many, many things) except for a couple of pieces of fresh fruit a day.
After 53 years of yo-yo dieting, I feel like I've finally stumbled on the truth … because I've read the evidence, and it actually works.
It indeed appears that it's the massively high quantities of sugar that have been introduced into our diets (fruit juice 25% sugar, breakfast cereals most of them 30% plus sugar, sweet chilli sauce 42% sugar …) that has been the culprit.
I'm no longer on a diet. I listen to what my appetite tells me. I eat when I'm hungry. I don't eat when I'm not hungry (which is most of the time). The only "sacrifice" is that I've rolled the clock back by a century or so by not eating anything that has lots of sugar.
More on that  in a later post.  Right now, just two more things. firstly, what's your response to the 60 Minutes segment?
And finally, if you'd like to know more about David Gillespie's findings, here … read his books (they're available as eBooks and in hard copy) I highly recommend them: