A Book Every Young Woman Should Read, but …
It's not often that I endorse someone else's book … but yet every now and then along comes a book that's just one out of the box! 
The MICI Message by Janelle Maree is one of those. It's been written specifically to help one of the most vulnerable groups in our society – young women – to discover who they really are. (Made In Christ's Image – MICI – which is also the name of Janelle's free, quarterly eMag).
But … it's not just for young women. It's a brilliant read for all of us. So I highly, highly recommend it.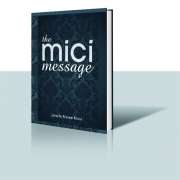 I had the great privilege of writing the Foreword to this fantastic new eBook, so this is what I wrote:
We live in a society whose ideas, beliefs, practices, morals and aspirations are placing our lives under siege. On the one hand we're being told that celebrity, brand, looks, fun and all those things that are dangled under our noses … is where it's all at.
On the other, many are living lives of quiet desperation, wondering where they fit in; who they really are in this crazy mixed up world, and whether it ever gets any better than this.
Despite all the hype and the hoopla, many have a sneaking suspicion that there must be something more than this.
And of all the groups in our society, I truly believe that young women are the most vulnerable and the most impacted by the great con and lie that's being perpetrated – it's all about fun.
They have so much to live for, so much potential, so many possibilities. That' why for them, so much is at stake.
As a father of a 21 year old daughter, I thank God for Janelle Maree's heart for young women and her passion to see young women discover who they truly are. In this book, Janelle gently and powerfully encourages young women – in fact all of us – to discover their true identity.
To lay hold of the huge potential that they have by planting their feet on solid rock, rather than trying to dance their lives away on sinking sands.
The one thing that Janelle writes that sums it up for me is this:
The world will tell you who you're not… God will always tell you who you are!
Are you someone who's thinking there must be more to life than this?
Have you been wondering where to go to discover the real you – the person you truly want to be, the person you know you can be?
Then spend a few hours reading this book. It will be one of the best investments in you that you'll ever make. Really!