Christmas – A Family Affair?
As we head to Christmas, New Year and for us in the Southern Hemisphere, summer holidays, our thoughts turn very much to spending time with our families. All the ads on the TV use happy, well-adjusted families as the backdrop – smiling kids and teenagers; happy mums and dads, silver-haired grandparents – as their backdrops to advertise everything from Christmas hampers, to BBQs to suntan lotion.
Our churches too tend to emphasis the joy of family relationships and it's an awesome thing that many, many people have wonderful nuclear and extended families with whom to enjoy their Christmas and holiday celebrations.
We tend to see it in particular, within families that have a strong, Christian heritage reaching back many generations. There's something about the godliness handed down from generation to generation that builds strong, healthy and loving families.
But not everyone is so lucky.  I was jolted into this realisation recently by a post from a friend on Facebook. This is what he said:
It's important to remember that not everyone is surrounded by large wonderful families. Some of us have problems during the holidays and sometimes are overcome with great sadness when we remember the loved ones who are not with us. And, many people have no one to spend these times with and are besieged by loneliness. We all need caring thoughts and loving prayer right now. If I don't see your name, I'll understand. May I ask my friends wherever you might be, to kindly copy, paste, and share this status for one hour to give a moment of support to all those who have family problems, health struggles, job issues, worries of any kind and just need to know that someone cares. Do it for all of us, for nobody is immune. I hope to see this on the walls of all my friends just for moral support. I know some will! I did it for a friend and you can too!
That Guilty Feeling
Many Christians – women in particular – look at all the apparently perfect, well-adjusted families that they're surrounded with heading into the Christmas period, and begin to imagine that theirs is the only one with tensions and dysfunctions.
You know – Uncle So–And–So drinks too much and always ruins Christmas. Then there's the whole reality of separation and divorce and the painful process of shuffling the kids between parents on Christmas day.
One couple I know has discovered that they're son is gay, and he wants to bring his boyfriend along to Christmas – what will the Christian grandparents say? How will they react? How will we cope?
And others still are consigned to a lonely Christmas through the death of their soul mate, estrangement from their children, decade–long feuds in their extended family … this list goes on.
You can see how guilt and inadequacy can fill the heart of a mother or father.
Hang on, we're Christians! Aren't we supposed to have our act together? Aren't we supposed to have brought up the perfect godly family? Why is this happening to me?
Dreading Christmas
And so many of us end up dreading Christmas. Instead of looking forward to the celebration of the coming of our Saviour, we're shuddering in our boots, wishing we could just make it all go away.
A time warp would be great – if we could just somehow skip Christmas and have the calendar click over from the 24th to the 27th of December – that'd be perfect.
Have you ever had that feeling?
Perhaps you're one of the fortunate that belongs to the almost–perfect, Christian–heritage family.  God bless you – and praise the Lord. But can I suggest that probably the vast majority of people reading this article right now aren't in that place.
So what's the answer? How do we cope with the ugliness and pain of the "festive season" when we know it's just not going to be what it was meant to be?
Well, I'd like to suggest an approach to you today that goes, way, way beyond coping. I'd like to suggest that this dysfunctional Christmas that you may be staring down the barrel at is a massive, missional opportunity.
And to figure that one out, we need to back to that very first Christmas.
Dysfunctional Family Christmas – A Missional Opportunity
The Son of God didn't come into a perfect family in a perfect world in a perfect way. Joseph and Mary weren't even married – imagine the scandal of that back then!!
And Mary – can you believe this! – claimed that the Holy Spirit did it. So Jesus as far as many were concerned, was an illegitimate child. How's that for family scandal and dysfunction.
Mary spent the last couple of weeks of her pregnancy walking or riding a donkey in massive discomfort, and Jesus slipped quietly into the world, out back in a smelly, unhygienic stable.
It wasn't that long that Herod tried to assassinate Him, so this tiny family (Were the parents married yet? Not sure) fled as refugees to Egypt.
And it didn't end there. Jesus the man was misunderstood, criticised, reviled, beaten, spat upon, mocked and crucified. And yet none of that – none of it – seemed to phase Him.
Jesus was a Man on a mission. He came to this world to heal the sick, give sight to the blind, love the sinners, set us free, sacrifice Himself for us and fling open the door to the Kingdom of Heaven so that you and I could walk in and spend eternity … eternity!! with Him.
There was nothing perfect about His family, His circumstances or His crucifixion. But that didn't stop Him – thank God!
A Model for You and Me
So … Jesus walked into an imperfect world, to lay down His life for imperfect people, some of whom were the very ones that nailed Him to the Cross (Forgive them Father for they know not what they do!) For Him, it wasn't about Him, but about what He came to do for you and me.
Call me crazy, but what if you and I approached a less than perfect family with a less than perfect Christmas celebration in exactly the same way. As a powerful missional opportunity just to be the hands and feet of Jesus, scarred though they may be.
To put our arms around Uncle So–And–So, to embrace the sinners, to serve them, to encourage them, to bring peace where we can, to pray for those whom we can't see or touch or influence. To show grace and mercy in our imperfect corners of the world.
To say: Dear Lord Jesus I don't know how this is going to work out but I'm here and I'm yours and give me the wisdom and courage to show your love to those who need it this Christmas.
Maybe that means inviting someone you don't want to invite to your Christmas dinner table. Perhaps it means seeing the lonely old man at church and making him part of your family for the day. Or maybe it means going out of your way to visit someone on Christmas day who's not even expecting you to call.
Whatever it is, it seems to me that the dysfunctional Christmas is a fertile mission field indeed. What do you think?
---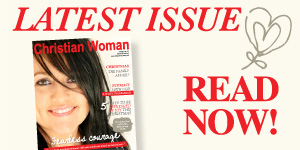 Berni Dymet is the only male with a regular column in Christian Woman Magazine.
This blog post was published as an article in the Summer 2013/14 edition of Christian Woman. To check it out – click here – and flick through to page 8. Enjoy.