What to do When Things Don't Go to Plan
Don't know if you've noticed, but things don't always go to plan. We wish they did. We think they should. But sometimes, they don't.
So, what should you do, when things don't go to plan?
1.  "Failure" is a Biblical Concept
Somewhere along the line, we got to thinking that success means that we're in God's will, and failure means that, well … we've failed God. And our definition of success, all too often, is that we're successful when things are going according to plan. Our plan.
But look at these two Scriptures about the ministry plans of the Apostle Paul:
Paul and his companions traveled throughout the region of Phrygia and Galatia, having been kept by the Holy Spirit from preaching the word in the province of Asia. (Acts 16:6)
For we wanted to come to you – certainly I, Paul, did again and again – but Satan blocked our way. (1 Thess 2:18)
So one time he wants to go to Asia, but the Holy Spirit changes his plans. Another time he wants to go to Thessalonica, but this time Satan thwarts his plans. Things didn't always go to plan for Paul either.
In fact, consider Abraham, Joseph, Moses, Job … any number of the Prophets … the disciples … the list goes on. Time and time again, we see that things didn't go to plan.
So at what point did we lose the idea that things not going to plan, that the circuitous route, is in fact an unmistakable biblical reality and truth? At what point did our plan become the yardstick for success or failure, above and beyond God's plan?
2. God's Plan Rocks
Whilst you and I would prefer to travel from A to B by the shortest possible route (preferably business or first class) God's sovereign plan more often than not involves challenges, trials, failures and disappointments along the way. That's why our salvation only came by Jesus travelling through Gethsemane and Calvary. Think about it. Hanging there on the Cross, Jesus looked like the biggest failure, the biggest loser in all of history … from a human standpoint.
Yet right there in the middle of that "failure", He won the greatest victory of all time!
Worldly success is great – we all want to succeed at what we do. But that sort of success is not necessarily the prime indicator that we are indeed, in the will of God. Ask Joseph. Ask Job. Ask Jesus.
In their hearts humans plan their course, but the Lord establishes their steps. (Prov 16:9)
In other words, it's great to plan. We should plan. But the final execution amidst circumstances that are all too often beyond our control, those are in the Lord's hands. And sometimes He has quite different plans to ours. What seems like failure to us, is not necessarily failure to Him. And it doesn't always have to make sense:
"For my thoughts are not your thoughts, neither are my your ways my ways" declares the Lord. "As the heavens are higher than the earth, so are my ways higher than your ways and my thoughts than your thoughts." (Isaiah 55:8,9)
3.  A Case Study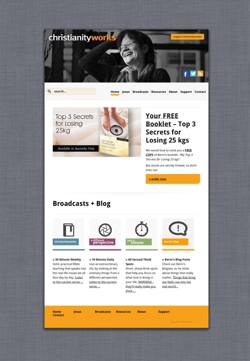 Four years ago, we here at Christianityworks set about building a new website – our old one had been going since 2004, it was time for a major refresh. We engaged some Christian developers who quite simply failed – after three and a half years – to deliver a working solution.
I'm not well acquainted with failure I have to tell you and I was gutted. We'd "wasted" all that time and some money for nothing (or so it seemed). It tore the stuffing out of me because my business mind told me that the opportunity cost to the ministry was massive.
But then a generous supporter, who by the way had given some funds to the first, "failed" project, stepped forward to underwrite our second crack at it.
He is a "successful" businessman who, like those biblical figures I mentioned earlier has been through his tests, trials and "failures" over the years. Over coffee he said something to me that I will never forget: Things don't always go the way you'd planned.
It's obvious. I know we know it. And yet, right then, I needed to hear it. (As Nicky Gumble says, a moment of encouragement during a failure, is worth more than an hour of praise after success). 
Friday week ago, the new website went live – by God's grace and thanks to the brilliant work of our new developers, Brown Box. It's better than anything we could ever have dreamed up four years earlier. And … here's the really important bit.
Four years ago, mobile access to websites simply wasn't an issue. Remember, iPhones were small and slow, the first iPad wasn't launched until April 2010 and Androids hadn't been thought of.  Whereas today, over half our web access comes from smartphones and tablets – a number that's growing daily.
And so the fist site that we had started to build way back then wasn't based on "responsive design" technology which these days automatically scales the site for mobile devices, whereas the site we launched the week before last … is.
It turns out that God had a plan after all. And He taught us a few lessons about success and failure along the way. Remember things don't always go the way you'd planned.