Good Friday – Easter Art Evokes Anger
Art has an amazing ability to evoke all sorts of  emotions – happiness, sadness, awe, anger, excitement, wonder, pain … the full gamut. 
As I was walking down Oxford Street Paddington (Sydney) in the week leading up to Easter 2013, this window display in a gay, fetish erotica store caught my eye.
No – 'caught my eye' is too soft!  It confronted me. That's much better.
When I saw it, my blood boiled, but …
Well, Let's Start With the Whole Picture
Just in case the thumbnail's a bit small, here's the whole display window in all its glory.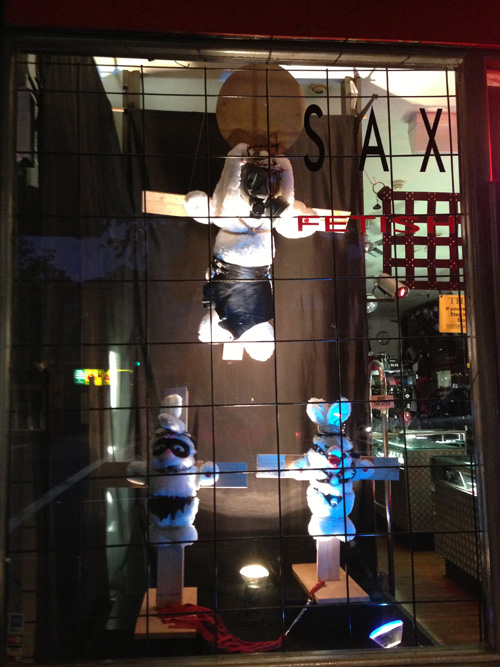 What does it say to you? Do you find this tongue-in-cheek misappropriation of the Easter Message confronting? Do you think I shouldn't have used it in my Good Friday Blog post? No doubt! And I wouldn't blame you one little bit!
First, The Outrage …
I walk past this store most days when I'm out exercising and since generally, the window is full of what are to me pretty grotesque displays, I don't look at it much.  But in the week leading up to Easter, some elderly tourists had gathered around the store and were taking photos. So I looked in the window – and that's what I saw.
Their "Easter display." An evocative cocktail of Christ and Him Crucified, the Easter Bunny and sexual fetish.
Like I said, initially my blood boiled. How dare they?!
The death of Jesus on that Cross for me is the most powerful statement of love in my life. I struggle even to comprehend the love and the grace of the Cross. That's what Easter's all about. 
Act 1: Good Friday – Jesus died on the Cross for me! That's what makes that brutal, bloody Friday such a Good one!
That someone would misappropriate the image of a love so sublime in this way, was beyond me. I was … speechless (and that's sayin' something for me!)
Then, The Realisation …
But pretty soon, the Holy Spirit started working in my heart – He has this pesky habit of speaking:
For all have sinned and fallen short of the glory of God. (Romans 3:23, 5:12)
If we say that we have no sin, we deceive ourselves and the truth is not in us … If we say that we have not sinned, we make him a liar and his word is not in us. (1 John 1:8,11)
Indeed I was born guilty, a sinner when my mother conceived me. (Psalm 51:5)
The truth is that my sin has made no less of a mockery of the Cross of Christ than theirs. The truth is that my sin is a stench in the nostrils of God, no less than theirs. And the truth is that Jesus died for their sin on that Cross, no less than He died for mine. 
It was a struggle for that truth to sink in. Not because the Holy Spirit didn't want to speak it to me. But because I, much like Jonah in his reaction to the grace of God for the people of Nineveh (in the face of their sin) didn't want to let it sink in (Jonah 3:10-4:5).
Something inside me wanted to believe that Jesus died for my sin, but certainly not for theirs.
The Magnitude of Mercy
I wrestled with this for a while, and when finally I let it go, it seems that the Holy Spirit – through this grotesque mockery of the Saviour who died for me – revealed an even deeper understanding of the magnitude of the mercy-transaction that took place up on that brutal Cross, back on that fateful day. 
As Paul writes in Romans 11:6 – grace can only be grace when it is undeserved. Were it earned in some way, it would be an entitlement and not grace.
The grace shown to me, as my sins were washed away by the blood of Christ is no more or less than the grace that is available to anybody who, by faith, would lay hold of it.
Granted, no doubt, that those whose "artistic flair" is on show in that store window, have not yet appropriated the grace of the Cross through faith. But the grace of God, through the Cross of Christ is available to them, should they choose to accept it.
So, stuffing my own Pharisaical pride back in my pocket, here's what I've decided to do:
Each day as I walk past this store on my exercise circuit, I am going to pray that the Light of the World would shine in that place. Into the heart of every person who works there and every customer who enters its doors. I am going to pray that the grace of God would break out in that place.
That's what Good Friday's all about, right?
Other Easter Blog Posts:
Honest Answers Poll #4 – What Does Easter Really Mean to You?
What You Really Think About Easter
Nailing Eater – Warning: Confronting Message
Appalled by the Easter Messages of Some Prominent Church Leaders