What Your Church can Learn About Marketing from a Thai Restaurant
Let me ask you something – should churches be into marketing? After all, it's the Gospel of Christ that we're "selling"? Is it really appropriate? Should we be following secular ways?
My answer, is an unequivocal ABSOLUTELY! Here's why:
In the first century, there were two major, secular "conduits" that allowed the Gospel to spread – the amazing road and port infrastructure (thank you to Caesar and the pagan, Roman Empire) and the almost universally spoken koine Greek language (thank you to the pagans in Greece). Without those, the church probably wouldn't be what she is in the 21st Century AD.
And today, those physical conduits have been largely supplanted by two equally pervasive ones. Branding (hence the need for marketing) and media.
What is a brand? Best definition I've ever heard is from Phil Cooke (see my blogroll to the right):
A brand is a compelling story that surrounds a person, a product or an organisation.
And the flip side of that coin from a marketing perspective is, as Seth Godin put it more recently, that:
Marketing is no longer about the stuff that you make, but about the stories you tell.
So, if the Church is in the business of telling God's compelling story – aka the Gospel – and if branding and marketing are the Roman roads and Greek language of the 21st century, why are we so bad at this?!
Sure, there are some notable exceptions, but in the main, well … you know.
I swear, if I see one more of those corny signs that someone produces, hanging woutside a drab, boring, grubby little church building that hasn't changed for the last 50 years, I'm gonna scream! Is it any wonder they're not knocking our doors down to meet Jesus?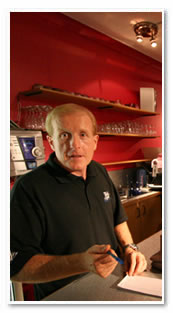 So … what's the Thai Restaurant have to do with all of this?  
Well a few weeks back I visited an average looking Thai restaurant in a fairly ordinary little place called Buderim (Queensland Australia) – nice, but nothing fancy you understand. The name of the establishment is Thai Frenzy. It seats, I'm guessing, about 35 to 40 people.
Food was great, service was great. The thing that caught my eye though, was the small flyer on our table. It basically said this:
To thank you for your feedback, we would like to give you a FREE 3 course Thai meal for your birthday.
And there was a flick 'n tick feedback form on the back, together with a spot to put your name, mobile phone number and email address so they could send you the voucher for your free meal. Pretty good offer I thought (although granted, the flyer I guess could have had a little more pizzaz to it). So I went and asked the owner Gareth (no he ain't even Thai) about it.
This is what he told me:
"Well," he said "we've been doing this for about 3 years and we have …"  wait for this, it'll knock your socks off "… we have around 3,500 names on our database now. We send them special offers and things and these days, most nights we're full."
Just let that sink in. A small, ordinary restaurant, in an ordinary place with a simple marketing idea, with an okay (but not stunning) execution tool. And they're going … gangbusters! Why?
Three reasons. Firstly they do have a great product. Secondly, they've found a way of engaging their audience by asking them what they think, and making them an offer they can't refuse. And thirdly, they've found a way to do some ongoing marketing to keep people coming back (because in our busy world, how quickly we forget even the "great products" in our lives).
Don't know about you, but I know lots and lots of ordinary churches, in ordinary places, that have a pretty good, sometimes even brilliant "product". God is moving in those faith communities, touching people, healing them, transforming their lives.  But have they figured out a way of telling people about it? Have they figured out a way of expressing their compelling value proposition to their consituency in such a way as to make it "an offer people can't refuse?"
And I'm not talking about turning our churches into some shallow compromise that appeals to the world. Not at all.
You are the light of the world. A city built on a hill cannot be hid. No one after lighting a lamp puts it under the bushel basket, but on the lampstand, and it gives light to all in the house. In the same way, let your light shine before others, so that they may see your good works and give glory to your Father in heaven. (Matt 5:14-16)
Your thoughts? …