Is Jesus Living Up To Your Expectations?
Way too many people who believe in Jesus, aren't living the life that He promised. It's a fact.
And so after a while, they look at Him and think to themselves: Being a Christian isn't all that it's cracked up to be. Jesus isn't all that He promised to be.
I wonder if you know anyone like that …
Jesus Promises Rather a Lot
He promises peace (Phil 4:6,7), joy (John 15:11) and hope, riches and power (Eph 1:15-23). He promises a completely new life (2 Cor 5:17), an abundant life (John 10:10) and an eternal life (John 3:16).
Now that's a very quick summary (and of course there's more where that came from – lots more). But if you had only what's promised in just those six passages, would that rock your world? Would it change everything? Well, every man, woman or child who places their faith in Jesus has those things already. It's that simple.
So … why are the pews of churches full of people who don't appear to be impacted by that; excited by that; totally transformed by that; radically energised by that?
A Narcissistic Perspective
We are, to a greater or lesser extent, products of our times; our social context. And the catch cry of our times is, quite simply, this: What's in it for me?  I can't tell you the number of times I've seen Bible-believing Christians approach their faith, their Lord and their Saviour with that same attitude.
So … Jesus … what's in it for me?
I'm not being critical, just stating the facts.
We imagine somehow that the ways of this world are the ways of the Kingdom. And therein lies the problem. What we need is something that will change our perspective. Something that unlocks all that Jesus has to offer us, in a world that's told us since we were born – it's all about you.
What we need is a different perspective.
Enter … A Different Perspective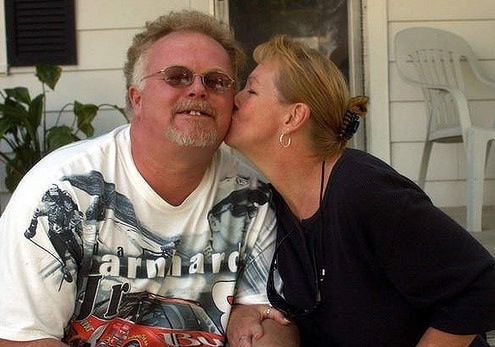 Kirk Bloodsworth was convicted of one of the most brutal crimes in Maryland's history. It took a jury just two and a half hours to send him to the chamber. 
Kirk Bloodsworth however, is also the first man on death row in the US, to have been exonerated by DNA evidence. Evidence which proved, conclusively, that he didn't do it. You can read his full story here, but just listen to what he said about the moment he was told that the guilty sentence and his death penalty had been overturned:
"It is as clear as the vision before me now," says Kirk Bloodsworth, who was exonerated in 1993 after nine years in prison. He was sitting on his bunk in a death-row cell when his lawyer was ushered in and told him he was innocent and would be released in a few days. He began to weep.
"Of course I cried. Everyone cries at a birth," he says. "I have been born twice, once as a baby and once as a grown man and after that I saw the whole world fresh."
That experience has transformed his life. He is now an ardent campaigner against the death penalty and has devoted his life to that cause. Why wouldn't he? He's been born again, and that's changed everything for him. Absolutely everything.
He sees the whole world "fresh". His re-birth has utterly transformed his life.
Are You Born Again?
I mean really, are you? 
Here's the thing. Kirk was given back his short, temporal life on this earth. And just that (which is nowhere near as significant as our eternal life) has transformed the guy. He'll never be the same again.
You and I … once we were on death row too. Not a temporal death row. An eternal death row. And by some amazing quirk of grace, we too were exonerated – not because of DNA evidence, but because Someone else went to the chamber on our behalf.
And my friend, that … that is meant to change everything. Everything!
Ephesians 2:1-10
You were dead through the trespasses and sins in which you once lived, following the course of this world, following the ruler of the power of the air, the spirit that is now at work among those who are disobedient. All of us once lived among them in the passions of our flesh, following the desires of flesh and senses, and we were by nature children of wrath, like everyone else.
But God, who is rich in mercy, out of the great love with which he loved us even when we were dead through our trespasses, made us alive together with Christ —by grace you have been saved— and raised us up with him and seated us with him in the heavenly places in Christ Jesus, so that in the ages to come he might show the immeasurable riches of his grace in kindness toward us in Christ Jesus.
For by grace you have been saved through faith, and this is not your own doing; it is the gift of God— not the result of works, so that no one may boast. For we are what he has made us, created in Christ Jesus for good works, which God prepared beforehand to be our way of life.
So Here's My Challenge to You
Just put yourself for a moment in that cell on death row with Kirk Bloodsworth. Imagine that you're there. You're him! The cell door swings open, and your lawyer walks in. Now take this passage from Ephesians and treat it as though it is exactly what the lawyer said to you. How do you feel? Do you cry?
Of  course you cry. Everyone cries at birth. You have been born twice, once as a child and once when you accepted Jesus. And after that, you see the whole world fresh.
So get on with it! Live your life as though this is the single, most important thing that you ever heard. Because it is.
And as the Spirit of God brings this amazing truth to life in your heart, it will change everything. Everything.
Because … that's the way it was always meant to be.