Meet the Agnostic on Our Worship Team
Yah – I bet that got your attention! And it's true. For several years, our church has had a "born again agnostic" – Vanessa – on our worship team. How does that make you feel? To tell you the truth, I was uncomfortable about it for a long time. 
Watering Down Our Christianity
We live in a world where a lot of people want to water down their brand of Christianity.  Just the other night, a good friend of mine Matt Prater took on the Australian Prime Minister Kevin Rudd on a televised program by asking him basically: How can you say that you're a Christian and promote same sex marriage?
That's one example, but there are many others.
More and more, Christians want to blend into the contemporary social landscape and not stand out too much. Let's just go with the flow. 
I'm not one of them. And the reason is that Jesus – my Lord and my Saviour – He's not one of them either.
In fact, He was prepared to tell God's truth no matter what it did to the public's perception of Him:
Because of this many of his disciples turned back and no longer went about with him. So Jesus asked the twelve, "Do you also wish to go away?" Simon Peter answered him, "Lord, to whom can we go? You have the words of eternal life. We have come to believe and know that you are the Holy One of God. (John 6:66-69)
We each need to choose where we stand – with Jesus or against Him. Watering down our faith is, in my view, tantamount to standing against Him.
So What About the Agnostic on the Worship Team?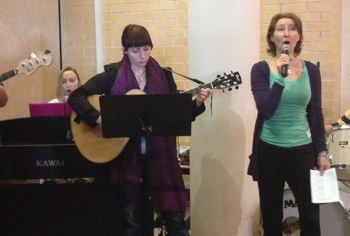 Well, here she is – she's the one with the guitar.  Her name is Vanessa.  The young woman on keyboard is her younger sister Lucy, and the woman to the right of her is her mum, Robyn.  They have for some years now, made up the core of our worship team at Church in the Marketplace.
Lucy and Robyn have been sold out to God for as long as I've known them. But Vanessa – she seemed so anti-God to most of the rest of us. 
So frankly, her presence on the worship team is something that I struggled with. I waxed and waned.
Surely putting a non-believer in such an important spiritual leadership position had to be wrong, right? Isn't this just another example of watering down our Christianity?
And yet on the other hand, do we push her away and stop her from participating, from hearing the Gospel? Do you see the dilemma?  I couldn't make up my mind.
Vanessa is a unique individual. On the one hand she is incredibly creative. Her sculptures and set designs are mind-blowingly amazing.  And yet, far from being an airy-fairy creative type, she has one of the sharpest minds I've come across. She was looking for answers and wasn't going to accept Christ, until a good many of her (rather tough) questions were answered. 
Frankly, often as I was preaching at our church I would see her blank stare and wonder to myself: What's she thinking? Is she taking it in? Why does she come every Sunday morning? What's going on?
Hoorah! The Agnostic is Finally Gone
Well, as things turned out, it wasn't a problem that I had to grapple with forever, because now, finally, the agnostic is gone from our worship team. What a relief!!
Oh, no … Vanessa didn't leave. She gave her life to Christ. Rarely have I ever seen such a radical turnaround in a person's life as in Vanessa's. These days she is quite the apologist – a passionate advocate for Christ, completely unafraid to stand for Him, no matter what the rest of society thinks (Mr Rudd please take note).
Despite the hammering that she's had from friends on Facebook, this young woman is committed with all her heart to her King, and to proclaiming His good news. Not all her questions are yet fully answered, but that's where her newfound faith cuts in. 
It turns out that the ground that she was standing on was sacred ground. Whenever a lost soul is seeking its Saviour – that's such a sacred place!
What Exactly is the Role of Church?
What Vanessa's story makes me think about is the role of our church. The role of your church. The role of local faith communities dotted around the country and around the globe.
Question: Your church and my church – are they places where people can be who God made them to be and grapple with questions of faith? Are our churches places where people can come to faith, or are they  places where really, people can only come with faith?
None of us will ever know, but had the leadership of our church pushed Vanessa away in a Pharisaic fit of righteousness (the word "Pharisee" literally means "separatist") there's every chance that she could have ended up going to a Christless eternity.
So, I'm not going to answer the questions that I've posed. I'll leave you to ponder them, and put your point of view.
What would Jesus do?