How Relevant is Your Church?
Here's a disturbing thought.  None of the churches that the Apostle Paul planted in the 1st century are still in existence.  Go to Turkey (one of the key hubs of Paul's church planting ministry) and you'll be taken to ruins, but not to any live, vibrant, living, breathing churches planted by Paul.
Why?
The Battle for Relevance
Because as anointed a church planter as the Apostle Paul was, at some point those churches lost their relevance. At some point … they died.
So let me ask you – how relevant is your church? Today. Here. Now. Hmm?
Is it answering the questions that people are asking? Is it meeting the needs that people are feeling? Is it touching hearts with that special something we call … the Gospel? Is it resonating with people … or not?
Do you remember Nokia? They used to be the leader in mobile phones. And what about Blackberry? Or Sony with their revolutionary Walkman? Or ….
There are any number of corporations that I could point to, to demonstrate how once thriving, vibrant market leaders have become dinosaurs that people point at from time to time in a fit of nostalgia wondering – Whatever happened to …
And my friend, churches are no different. As I look at the church landscape around my local area, it is frankly so cluttered with dinosaurs, that it feels some days as though I'm on the set of Jurassic Park!
A Different Perspective
A bit harsh do you think?  Have a read of this short extract from a stunning new book by Michael McQueen called Winning the Battle for Relevance:
On a recent speaking tour, I stopped in a small rural town to grab a bite to eat. As I strolled down the main street looking for anything that might be open, I stumbled across an enormous real estate sign that stopped me in my tracks.  What caught my attention was the property being sold.
It was clear the beautiful old church had seen better days. Timber boards covered windows where stained glass once glistened; a trail of stairs leading to the church's giant front doors was overrun with weeds; birds nestled in a broken ceiling on the front porch.
On a side wall of the building a marble plaque with faded, gold-leaf inscription read simply: "This stone was laid by the President of the Baptist Union, 20th June 1903. Dedicated to the Glory of God."
As I continued down the street, I imaged the many significant moments and memories that had taken place within the walls of the once busy church. I envisaged a small group of committed individuals determined to create something sacred and beautiful, and I imaged the sacrifices they would have made to see their dream fulfilled.
Hosting baptisms, weddings and funerals, the building would have once been central to the life pulse of the town.
And then I wondered: what happened?
At what point did this church cease being core to the rhythms and cycles of this town's residents … and why? Was it a change in the community's values or DNA? Was there a clergy leadership scandal that caused the church's membership to scatter? Did the local economy fall on hard times? Had the congregation aged and eventually died out?
Whatever the cause, the result was clear. Somewhere along the line, this little church had failed to keep pace with the world around it – a predicament in which they are far from alone …
We are experiencing an unprecedented convergence of economic, social, technological and geopolitical shifts that are widespread, rapid and fundamental.
In short, we are at an inflection point in the history of mankind – a point at which the future cannot be discerned by looking to the past.
Recognizing these shifts in the social landscape, my research in recent years has become focused on three key questions: 
1.  How does the journey from prominence to obsolescence unfold – are there discernible patterns and cycles that organizations and leaders ignore at their peril?
2.  Why have such a disproportionately large number of companies, institutions or brands faded from the scene in recent years?
3.  What separates the enduring from the endangered – and what can we learn from those who are prevailing and prospering in this time of disorientating change?
Answering the Difficult Questions with Insight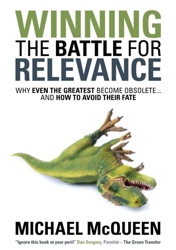 Whether you're a leader in a church or in a business, those are the right questions to be asking and answering. Perhaps you're not a leader at all, just someone with a heart for seeing lives changed as more and more people encounter Jesus for themselves.
Wherever you are, whatever your passions, I want to point you to Michael McQueen's insightful and riveting book – Winning the Battle for Relevance.
It's one of the best books that I've read in a very long time. And is definitely a must read for any thinking Christian.
How relevant is your church? Check it out.