20 Years Since I Gave My Life to Jesus
.
They say that time flies when you're having fun. But I simply cannot believe that it's 20 years since I gave my life to Christ. Looking back, here are three of the most important things I've learned:
.
1. Just because it's not easy … doesn't mean that God isn't with me
I gave my life to Jesus at 11:20 am on the 15th of October 1995 (AEST) just after I'd heard a message preached at the Church of Christ, O'Briens Road in my hometown of Wollongong, NSW. The message was "God is Calling You" and I remember it so clearly, that I just preached it at my church this past Sunday.
All this came after the most harrowing time, the darkest time, of my life. Just a few months earlier, I had come close to taking my own life out of desperation. But these friends of mine dragged me to church that day. Now, my frame hadn't darkened the doorstep of a church in many years, so it wasn't easy stepping over the threshold.
And yet after the service, I walked out, sat down under a gum tree and prayed this prayer: Lord forgive me. Everything I have and everything I am I give to you. I don't want to be a suburban, pew-sitting Christian. If I'm going to follow you, I want it to be for real.
I really didn't know what that meant, it's just what I prayed … and He took me at my word. Man there have been some tough times on the journey since.  In life … in ministry … in my walk with Jesus when I have failed Him. But I can tell you with absolute confidence, with complete certainty, that God has been faithful through it all. He has never left or forsaken me. He has always been there. He has always provided my every need.
If we are faithless, he remains faithful— for he cannot deny himself. (2 Tim 2:13)
His grace truly has been sufficient for me. Without God's grace … well, it just doesn't bear thinking about.
.
2.  Becoming Who I Was Made to Be
Back in my Bible College days, which began just a few months after giving my life to Christ, we had a lecturer by the name of Dr Barry Chant. What a saint that man is! He insisted that we learn this one Scripture verse by memory. Here it is:
For we are his workmanship, created in Christ Jesus to do the good works that God prepared beforehand for us to walk into. (Eph 2:10)
"Why that verse?" I wondered at the time. But now I get it. God has made each one of us with unique gifts and abilities and unless and until we start becoming who we were made to be, living the life we were made to live, doing the things we were made to do, we will never be satisfied; we will never be fulfilled or content.
For the first 36 years of my life I chased fulfilment and satisfaction through my career, my reputation, the things I earned, the things I bought, the cars I drove … and I whilst the world would have judged me "successful" I was so empty inside that it drove me to the edge.
After that morning outside that church, whilst there were many more difficult times to come, I began to discover something about myself that I didn't know. My gift is to be a storyteller (What sort of a gift is that? one might ask). My gift is the ability to take complex issues and bring them together in a way that not only makes sense to people, but moves them to act and to respond.
There are many other things I cannot do. But that one thing, for me, is effortless.
When I left my secure, high-paying consulting career behind in order to follow God's call into this ailing, failing ministry of Christianityworks (as it was at the time) I discovered that He meant to use that gift to share his love with countless people around the globe.
Then I remembered what Barry had taught us. God had truly handcrafted me, prepared me in every way, to walk into the good things that He had prepared for me before time even began. And it's only in being who He made me to be, in Christ, that I have discovered the contentment and satisfaction that I had been searching for all along, but which had thus far always eluded me.
Jesus was right when He said it is more blessed to give than to receive. It just took me half a lifetime to figure it out.
.
3. Bible Changes Everything
My life was a mess when I came to Christ. Really a mess. Everything had fallen apart. Everything that had mattered to me, I had lost. And I was fairly certain that God would never be able to do much with me. In fact, I couldn't even see how I was going to make it through until tomorrow, let alone next year … or the next 20 years.
But in those early days, I started to do something that the old Berni would never, in a million years, have contemplated doing. I started reading the Bible, day after day, just the next chapter in the book I happened to be reading. And it stunned me, I mean it completely left me gob-smacked, how just in that next chapter were the answers that I needed for the problems I was facing that day.
Of course, these days, I spend time in the Bible because it's my job. But before I do that, early in the morning when most other people are asleep, most mornings, I spend time in the Bible for me. Because that's where I hear God speak. That's where I become a better husband, father, teacher, coworker and friend.
That's where God has changed my life.
So many people write to me or speak to me and they tell me how this or that or the other thing is going wrong in their lives. When I ask them, "So … how often do you read your Bible?" there is inevitably an embarrassed silence.
DOH!
Without any shadow of a doubt, the one thing that, more than any other, has changed my life, is hearing God speak to me through His Word; allowing the Holy Spirit to write God's Word on my heart. And it's a habit that, God willing, I will continue for the rest of my life, because as He knows, He has so much more work to do in me.
Theologians call that process "sanctification". I prefer to think of it as rehabilitation; being transformed from glory to glory, to become more and more like Jesus.
So … here's to the next twenty years!
To God be all the glory and praise and honour, and may Jesus return soon.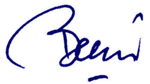 A sinner saved by grace