Let the Games Begin
In a few weeks, all the hoopla that once was the London Olympics will be but a dim, distant memory.  It's back to the grind for all of us after a welcome distraction. We may give the stunning gold-medal performances of some, a passing thought from time to time, but … you know how it goes.
So would it surprise you to know that for anyone who calls themselves a Christ-follower, there is a call in God's Word to be, in effect, a "gold medal Christian"?  
Now that's an idea that sounds completely foreign to the Gospel of grace doesn't it? Well, it's in the Bible so here it is:
Do you not know that in a race the runners all compete, but only one receives the prize? Run in such a way that you may win it. Athletes exercise self-control in all things; they do it to receive a perishable wreath, but we an imperishable one. So I do not run aimlessly, nor do I box as though beating the air; but I punish my body and enslave it, so that after proclaiming to others I myself should not be disqualified. (1 Cor 9:24-27)
So there it is. The Apostle Paul who wrote that is alluding to the Isthmian Games – as well known to the Corinthians, as the Olympics are to you and me. And here is, in effect, what he's saying: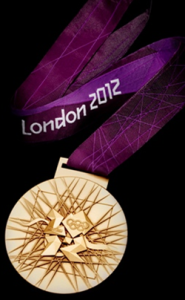 You know all the sacrifices, all the training, all the disappointments and injuries, all the physical and mental pain that athletes go through to win a crummy wreath (or medal)? All the self-control? The focus? The dietary disciplines? All that stuff? Well, that's the life that we're called to. They do it for a small reward on this earth. We do it for a much greater reward.
At first blush, does that strike you as being somehow … anti-grace? Does that feel as though we're heading back to the oppression of living under a bunch of rules again?  
My hunch is that for some, it does.
And yet here it is – written by the man who argued so strongly against submitting once more to the law, and falling under the curse of legalism.
So why is it here, in the New Testament and what does it mean for you and me, here and now?
It's easy for us to equate "grace" with the idea of "taking it easy". Relax. God's done it all. We don't have to exert ourselves. But right here, God's telling us the complete opposite – not in terms of our salvation, but in terms of our response.
Anyone who has truly experienced the good news – the gospel – in their hearts, anyone who has the Spirit of Christ in them … is going to have a response. A heart response. A response that says  I can't just sit here and warm a pew. I have to do something about this. I have to tell people. I have to use who I am and what I have to get this good news out there.
And that is exactly what Paul is saying here – with everything you are, with everything you have, with every breath and fibre of your being, with every ounce of energy you have, proclaim the Gospel.
In the verses just before this bit about the Isthmian games, Paul tells us why he's behaving this way:
I have become all things to all people, that I might by all means save some. I do it all for the sake of the gospel, so that I may share in its blessings. (1 Cor 9:22,23)
For the sake of the Gospel. For the sake of letting all people, everywhere, know about Jesus.
Of course – in our giftings and abilities to do that, we're all different. Some are long distance runners, while others are sprinters. Some are weightlifters, while others are gymnasts. But whoever we are, whatever our gifting and passion … we're each called to do it all for the sake of the Gospel – with everything that it takes to win a gold medal.
So … let the games begin …